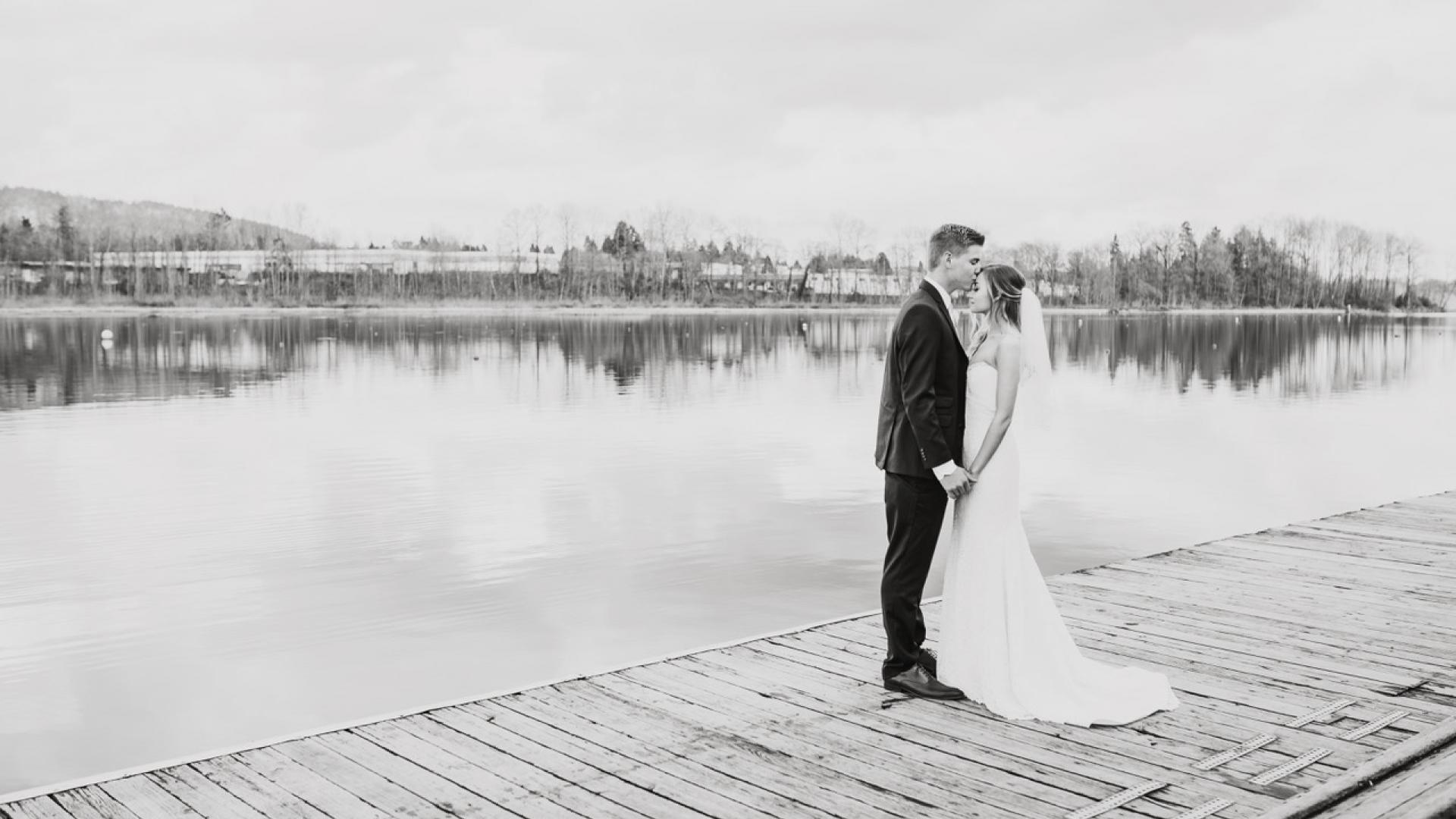 Weddings at the Burnaby Lake Pavilion
Make the most of your remarkable event of a lifetime among the impressive vaulted ceilings and striking views of scenic Burnaby Lake and its extraordinary natural scenery and wildlife.
CITY Catering (the City of Burnaby's expert catering services) presents an exclusive wedding package for $120 per seat and includes the following to help make your day as seamless as possible:
Facility rental of Burnaby Lake Pavilion (plus 2 hours of decorating time)
Tables, chairs and use of serving kitchen (only for warming food).
Use of podium and microphone
On-site custodian
Full set up and take down of reception
Menu tasting for two
Service staff
White table linens, cloth napkins, cutlery and table settings
Cake table
Signing table
Ceremony rehearsal space
Half price for children aged 11 and under. 
Please note: Burnaby Lake Pavilion is limited to only setting up, taking down and storing its own in-house décor, supplies, technology and other items.
The Grand Wedding Buffet
If you have any specific dietary requests or requirements, please let our staff know so that we may provide you with available options.
Reception platters:
Cheeseboard with bread and crackers | Crudite with Dip
Accompaniments:
Season steamed vegetables | Choice of potato: herb roasted or garlic mashed | Rice | Dinner Rolls
Choice of two salads:
Mixed greens with house dressing
Caesar salad
Thai noodle salad
Potato salad
Choice of one penne pasta:
Sundried tomato, garlic and spinach
Alfredo sauce
Roasted vegetables and marinara sauce
Choice of two proteins:
Baked chicken breast (choose sauce)
Marsala with mushrooms
Creamy garlic tarragon
Rustic tomato
Butter chicken
Cod (substitute for wild sokeye salmon $7 per person)
Ponzu sauce
Rustic tomato
Creamy dill
Beef (substitute for prime rib $12 per person)
Chef carved strip loin with au jus | horseradish | dijon mustard
Also includes:
Chef selection desserts | Freshly brewed coffee, tea and ice water
NOTE: Packages and pricing are subject to change without notice. Prices are subject to change depending on market conditions. If some items are not available due to market conditions, a reasonable substitute will be provided based on the price of the product at the time of the contract.
*The Burnaby Lake Pavilion is also available for rent. For more information, please contact Christine, phone 604-205-3033 or complete this booking request form.